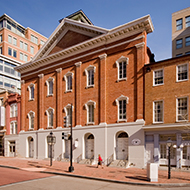 How We Work
IRVINE is recognized as an industry leader for its creation and implementation of innovative, customer-centric design + construction strategies that ensure complete connectivity between an Owner's vision and the outcomes of their capital projects.
With meticulous due diligence and attention to detail; IRVINE develops budgets that maximize project value, aligns scope with anticipated cost, builds and manages the performance of great teams, anticipates issues and continuously evaluates human and financial risks.
IRVINE provides a comprehensive range of strategic services within its consulting and program management offerings. IRVINE's core capabilities include:
 ▪ Project Leadership and Communication
 ▪ Budget Development and Cost Management
 ▪ Time Management and Scheduling
 ▪ Sourcing and Procurement
 ▪ Contract Negotiation and Dispute Resolution
 ▪ Project Accounting
IRVINE believes that outstanding results are generated by continuous focus on the issues that matter, in-depth preparation and consistent application of proven leadership principles. We also believe in accountability and therefore take full responsibility for the successful outcome of each project.